WELL RECOVERY RATE TESTING NOVA SCOTIA
Flow Rate Testing
WELL RECOVERY RATE TESTING NOVA SCOTIA
Flow Rate Testing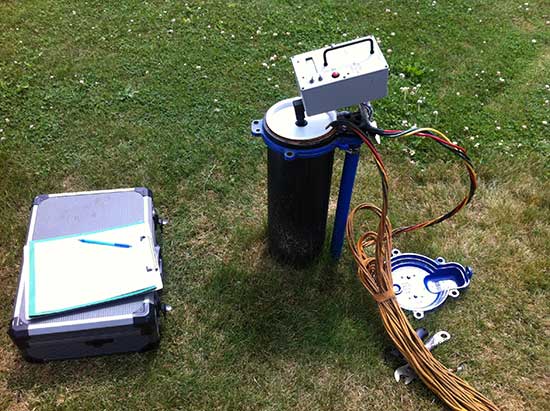 How Can I Know I Won't Run Out of Water?
Our "Well Recovery Rate Test" will answer that question
Non-Intrusive Procedure: We use a sonar-type measuring tool.
Time On Site: 2 hours. (Set-up, 60 Min Test, Pack-up.)
Same-Day Reporting: Accurate Recovery Rate in gallons per minute (GPM) as well as an easy-to-understand Well Recovery Report.
A Certified Water Technician performs the Well Recovery Test.
Our Promise: We promise to provide an accurate, unbiased analysis of your water. We will NOT misrepresent the facts or raise any unnecessary concerns.
Payment Options: Cash, Cheque, Visa, Mastercard, E-Transfer.
"How Can I Know I Won't Run Out of Water?"
That is one of the biggest concerns a home buyer will have about a home, especially if they are moving from "city water"…having never had a well before.
It can make or break a deal…
Our "Well Recovery Rate Test" will answer that question.
When all factors are considered, including:
Recovery Rate (obviously)
Total Depth of the Well (volume of water available for use)
Depth of the Pump
Static Level of Water (distance from top of well casing to the water level)
Number of Occupants (that will be living in the house).
…a mathematically-based analysis can put one's mind at rest
Example:
If the Recovery Rate of a well is low (1gpm), but the well is deep (ie 300′ of water), you've got over 400 gallons available to use.
If 4 people have 15-minute showers, one right after the other, with a water usage rate of 4 gallons per minute (that's a high estimate)…you've only removed 240 gallons of the available 400.
PLUS, over that 60 minutes, 60 gallons flowed back into the well…so after 60 minutes you still have 160 + 60 = 220 gallons.
A low Recovery Rate generally isn't as scary as it sounds.
NOTE: The discussion on this page assumes a "drilled" well. We don't do Recovery Rate testing on "dug" wells.
Appointment Requirements
DON'T schedule the Recovery Rate Testing and Septic Die Testing the same day.
DON'T wait to schedule your Recovery Test the day before you need it. We're often booked up 2-4 days in advance…
DO make sure the well cap is accessible.
DO remind homeowners to use as little water possible on the morning of the day we perform our Recovery Rate Test.