Soldier Water Filter Get potable water from lake, river or rain water!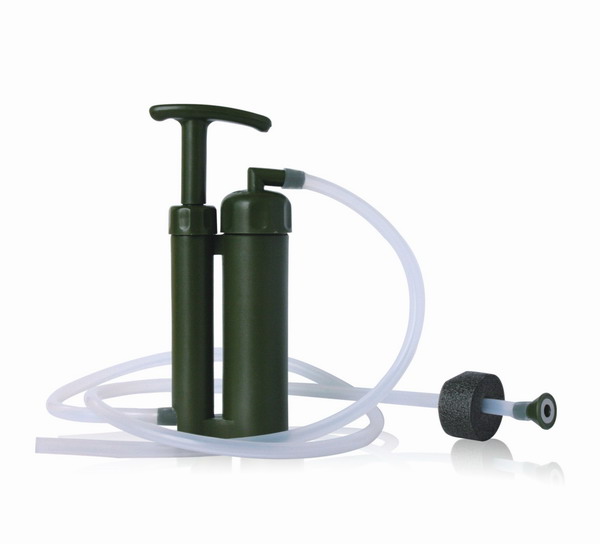 Solves Common Water Problems:
Ideal For:
Hiking
Camping
Fishing
Hunting
Climbing
Survival
Military
Foreign Travel
Emergency
Characteristics
removes 99% of bacteria in water like Escherichia coli, Staphylococcus aureus, Salmonella typhi, Vibrio cholerae, legionella pneumophila.
Entirely eliminates suspended contaminants of alga, worms and dusts.
Efficiently reduces the concentration of soluble heavy metal ions in water such as Pb2+, Cd2+, Cr6+, As3+, etc.
Efficiently reduces the concentration of organics.
Has a good ability to remove odours and turbidity.
All contained in one automatic water purification bottle
Simple and easy to operate
High filtration performance & cleanable filter cartridge
Pocket size: 3.8X5.7×2.8cm, Weight: 116g (3oz)
Technical Data:
Size of ceramic membrane's aperture:0.1 micron
Output: Approx.500ml/min
Capacity: 2000 litres
Material: PC and ABS plastic. Ceramic, Nano-metal clusters media (Nano-KDF)
WHAT OUR CUSTOMERS ARE SAYING…
An incredible difference!  The improvement over the old system (softener, iron filter) is amazing.  We no longer have red water, no smell and the system is doing great.

We are enjoying our new water system very much.

Noticeably softer on the skin.

The technician was friendly and pleasant. The work was done faster than estimated - which is nice. He even re-organized the other water treatment equipment already there to make it easier to access.

He sold us what we needed. Your options to work with were within our budget and it was installed quickly.