Ultraviolet Light Is your drinking water safe?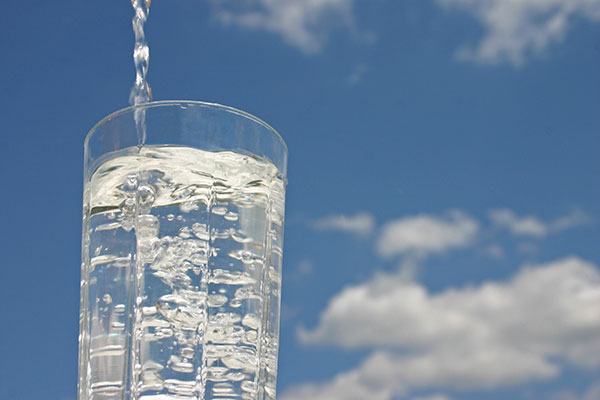 Solves Common Water Problems:
Features:
most effective disinfection method
no chemicals added
no corrosion troubles
drinking water retains its natural flavor and smell
minimal maintenance & low operating costs
no health endangering by-products
no reaction tanks or secondary pumps
easy to handle
Did you know?
envirowater TECHNOLOGIES incorporates modern technology to solve a problem that's been around for ages. Bacteriological contamination can be present in all water supplies, especially rural areas or areas which are not treated with municipal water systems. It is recommended that no surface waters be consumed without adequate microbiological treatment, regardless of how the water is tested. envirowater TECHNOLOGIES UV Disinfection Systems protect you from harmful bacteria transferred through water.
Unlike traditional disinfection methods (i.e. Chlorination), UV imparts no residual chemicals into your drinking water. The most effective bacteria removal process available today is to use ultraviolet light (UV) disinfection to clean your water.  It is a proven fact that UV rays destroy the carcinogenic micro-organisms in water in seconds, which prevents these harmful elements from further multiplying. The result is the most simple, cost effective way of treating your water!
Call us now on 902.861.3684 or toll free 1.866.999.3684
Features of the Viqua D4
Easy to maintain
Built to deliver outstanding UV performance
Whole-home UV disinfection system
Graphical interface
Designed for recommended flow rates up to 12 gpm 30mj/cm2 (45 lpm)
Overall foot print is extremely compact due to advanced lamp/chamber technology
Annual lamp change reminder timer
No tools required for regular servicing
Easy-service lamp connector
System includes high flow 5 micron pre filter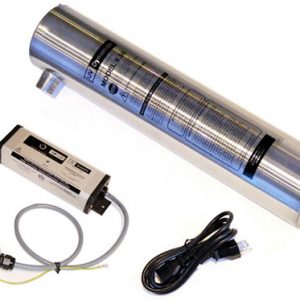 Features of the UV Dynamics UVD320E
Flow rate of 10gpm (37L/min) delivers UV dose of 30mj/cm2
Passivated and polished 304 stainless steel reactor measuring 3.5" x 18"
9000hr long life coated UV lamp
Microprocessor controlled UV power source with audible and visible lamp failure alarms
Annual lamp change reminder timer
Lamp life remaining feature
¾" MNPT fittings
Domed quartz sleeve to simplify servicing
No tools required for regular servicing
Easy-service lamp connector
System includes high flow 5 micron pre filter
How does uv work?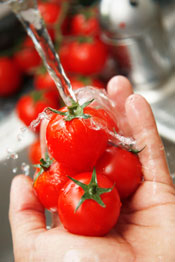 Ultraviolet water sterilizers incorporate natural UV light energy to eradicate microbiological contamination. Water enters through the bottom port of the ultraviolet reactor chamber and swirls around a low pressure mercury vapour lamp thermally protected by a quartz sleeve. The UV lamp emits powerful ultraviolet light energy at a wavelength of 253.7nm. Vital genetic components contained in microorganisms absorb the light energy; this disrupts the DNA and prevents reproduction. Treated water then exits through the top port of the generator cell and is ready for consumption.
We carry water treatment models for treating water at your kitchen sink or for your entire home – solutions for all your water treatment needs.
Is Water Pre-treatment Required?
The UV disinfection is a physical process and the microorganisms need to be exposed to a minimum level of UV energy for effective disinfection. To ensure low maintenance reliable operation, the water to be treated must not contain any elements which significantly reduce the UV transmission of the water or elements which will form a deposit on the quartz sleeve which will lower the amount of UV light energy in the disinfection chamber. Water, which meets the following minimum guidelines, generally requires only an annual maintenance interval, consisting of lamp replacement and cleaning of the quartz sleeve.
Turbidity < 1 NTU
Suspended Solids < 10mg/L
Colour None
Total Iron < 0.3 mg/L
Manganese < 0.05 mg/L
Hardness < 7 gpg
If you are unsure as to whether your water source meets the required minimum standards, we suggest you have a sample of the water analyzed by a local water testing laboratory. We highly recommend, as a minimum, the installation of a 5 micron pre-filter before all UV disinfection equipment. If your water needs pretreatment in addition to the 5 micron prefilter we would suggest you consult with a local water treatment dealer who is familiar with water conditions in your area.
UV Bulbs in Stock
envirowater TECHNOLOGIES stock various bulbs including:
Dynamics
Rainfresh
Sterilight S36RL, S463RL, S810RL
Viqua C/D
Viqua B
Viqua 505
Watts
Wedeco 1825
Wedeco 1845
Contact us for more information.
WHAT OUR CUSTOMERS ARE SAYING…
I can use the dishwasher again without bad film.  Wash fixtures and tub easily.

good taste, better removal of stains in wash, less build up on sinks...

The cats are drinking more, no more copper build-up, plants seem healthier.

What were the most important reasons you chose Enviro Water Technologies over every other option? Their knowledge of the product and water needs.

A very positive experience.  Installer was very informative.  He helped us find an economical water treatment solution for my home.

The difference between day and night, for the better.