Point Of Use (POU) Bacteria Filter A Self-sterilizing Bacteria Filter That Can Be Used Over & Over Again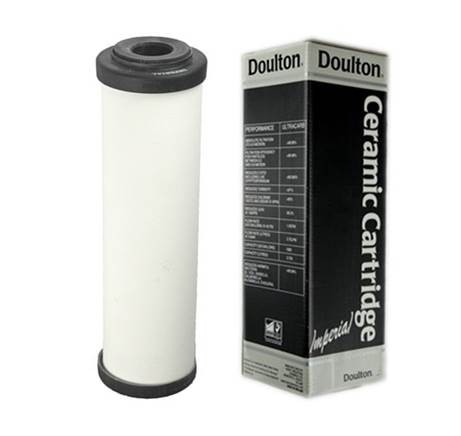 Solves Common Water Problems:
Features:
The Sterasyl Cartridge is NSF Certified Standard 42 & 53 for the reduction of:
particulates (Class I)
99.99% Cyst (Cryptosporidium & Giardia)
99.69% Turbidity
99.99% Harmful Bacteria (E. Coli, Cholera, Shigella, Salmonella, Klebsiella)
Did you know?
The Doulton Imperial Sterasyl Ceramic Filter is a self-sterilizing filter that can be re-used over and over again to provide absolute micron filtration down to .9 microns at an economical price.
The Doulton Sterasyl ceramic shell is silver impregnated ceramic which provides for a consistent and controlled pore structure increasing efficiency of this sub-micron filtration filter.
The flow rate of the ceramic filter can be easily renewed by simply brushing its outer surface with a stiff toothbrush, plastic brush or soft scouring pad under cold running water. As the top layer of ceramic and the contaminants are brushed off and flushed away, a new layer becomes available. With the Sterasyl candle/cartridge this process can be repeated until the diameter of the slimline element reaches 1.75 inches.
The filter is suitable only for cold water use.  Therefore use only cold water for cleaning.  Never use any soap, detergents or steel wool for cleaning.
Call us now on 902.861.3684 or toll free 1.866.999.3684
Specifications:
1.8 GPM Flow Rate
2.75″ x 9.75″ Dimensions
Operating Pressure 10 PSI ti 125 PSI
Cleanable
>98% Efficiency at 0.2 micron
>90% Efficiency at 0.05 micron
100% Absolute Filtration efficiency at 0.9 Micron
WHAT OUR CUSTOMERS ARE SAYING…
Jonathan was efficient, conscientious and professional.  I am very please with the care he too and with the quality of his work.

Very positive.  Dish water does not have stains. Feel much cleaner after shower.

When I called to make my first appointment, the employee on the phone was pleasant, knowledgeable and explained the fees and costs very clearly so that there was no uncertainty... The technician who came to our home was on-time, pleasant and did an amazing job cleaning the canisters for our water system.

Technician was extremely courteous and professional.

Very good.  My son told me a friend of his told him about your company, that they were a good place to deal with.

Water tastes wonderful. More important the coffee is 100% better.