Enviro Water Technologies Proudly use Clack Control Valves on all our Point Of Entry systems
User Friendly digital display
On Board manual – Always at your fingertips
Battery Back-up – No Reprogramming after a power outage
Full 1″ porting allows for high flow rates (up to 27 GPM) and maximizes household pressure
Built in Bypass Feature – easily switch from treated to untreated water for gardening
Self Diagnostic Feature – often eliminates the need for a service technician callout.
Smart Regeneration – Only cleans the system when it needs to based on the household water usage. Saves salt and wasted water
Double Rinse Feature – eliminates excess sodium residuals after regeneration
Programmable Recovery Period for use on low producing wells
No Metal Parts in contact with water – Eliminates corrosion related failures
10 year warranty Available
Choose Simplicity (pdf)
Water Treatment Products by Category
Chemical Free & Salt Free Systems
Iron, Sulpher, Manganese Systems
Uranium & Heavy Metal Filters
Guarantees / Warranties
Our Guarantees
Each product comes with:
Comprehensive Warranty – Backed by the manufacturer.
Lemon Clause – If we have to service your system 3 times in the first year we will exchange it at no cost to you.
Our Warranty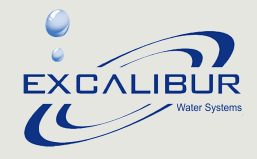 Envirowater Technologies is proud to offer high quality equipment from Canadian manufacturer, Excalibur Water Systems.