envirowater TECHNOLOGIES No-Bottle Water Coolers with Filtration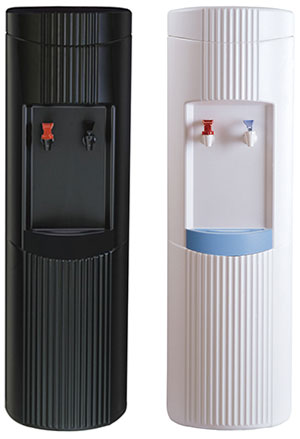 Features:
Double mechanical float system for reliable operation
Secondary float acts as a safety precaution by shutting off water supply
Manual reset switch located at top of system for easy access

Green indicates normal function
Red indicates the secondary float has been activated

5 micron air filter
¼" inlet tube for connection to water supply
Child resistant handle is standard on the Hot faucet
FDA approved self-closing Tomlinson faucets
Noise dampening technology for quite operation
Durable polyethylene cabinet comes with UV protection to prevent fading

Child-proof hot water faucet
Removable drip tray
Hot water ON and OFF switch
envirowater TECHNOLOGIES offers No-Bottle water coolers. The Glacier Point-of-Use water dispenser is available in Hot and Cold or Cook and Cold models. The rounded cabinet and fluted front give the Glacier a classic Greek column design suitable for any environment. While being aesthetically pleasing, the polyethylene cabinet's smooth finish is easily cleaned and refurbished. This commercial grade cooler will deliver years of trouble free optimum performance.
Call us now on 902.861.3684 or toll free 1.866.999.3684
Did you know?
One third of the 103 brands of bottled water studied by the U.S. natural resources contained unacceptable levels of contamination, including traces of arsenic and E Coli. At least one forth of bottled water is actually regular tap water.
WHAT OUR CUSTOMERS ARE SAYING…
Everything was wonderful. Courteous staff and quick reply when communicating! Excellent!

We love our new water system, dishwasher is white inside again, toilet is flushing better, etc. What a difference!

Thank you, we feel as if we made a good investment.

Problem fixed! Rapid response time and professionalism.

Cleaner water in toilets.

The guys went above and beyond the call of duty.