Soldier Water Filter Get potable water from lake, river or rain water!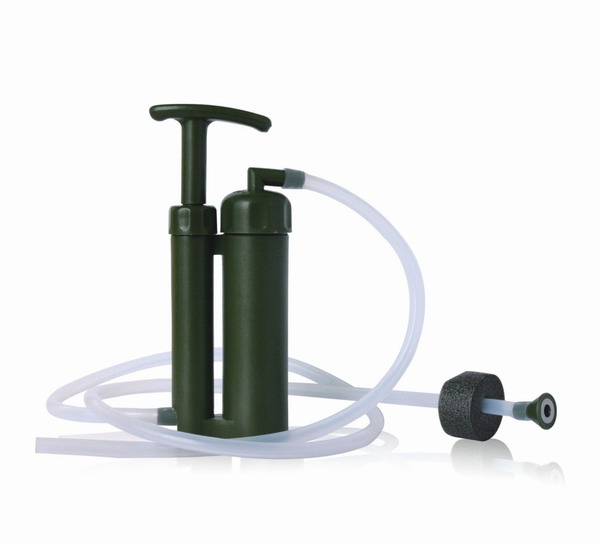 Solves Common Water Problems:
Ideal For:
Hiking
Camping
Fishing
Hunting
Climbing
Survival
Military
Foreign Travel
Emergency
Characteristics
removes 99% of bacteria in water like Escherichia coli, Staphylococcus aureus, Salmonella typhi, Vibrio cholerae, legionella pneumophila.
Entirely eliminates suspended contaminants of alga, worms and dusts.
Efficiently reduces the concentration of soluble heavy metal ions in water such as Pb2+, Cd2+, Cr6+, As3+, etc.
Efficiently reduces the concentration of organics.
Has a good ability to remove odours and turbidity.
All contained in one automatic water purification bottle
Simple and easy to operate
High filtration performance & cleanable filter cartridge
Pocket size: 3.8X5.7×2.8cm, Weight: 116g (3oz)
Technical Data:
Size of ceramic membrane's aperture:0.1 micron
Output: Approx.500ml/min
Capacity: 2000 litres
Material: PC and ABS plastic. Ceramic, Nano-metal clusters media (Nano-KDF)
WHAT OUR CUSTOMERS ARE SAYING…
Very impressed with the service and attention to detail when assisting our daughter with her water issues.

Informative, polite, professional and on time. Phenomenal! Peace of mind knowing our water is clean is worth it.

Great service, Knowledgeable workers.

Water is better than it was before the system.

My gratitude for your professionalism, technical expertise and courteous manner. Your company should be proud.